Best Cigars for Beginners: Our Top 5 Picks
Getting into cigars can seem intimidating. Whether you're a first-time cigar smoker or you've shared a few sticks with friends, you might not know what to look for when you step in the humidor, and all the options can feel overwhelming, especially when you don't know all the terminology and geography that goes into discussing cigars. If you're new to cigars and not sure where to start, no worries — Stogies has you covered. 
Get your home humidor off to the perfect start with these perfect cigars for beginning smokers.
1) Acid Kuba Kuba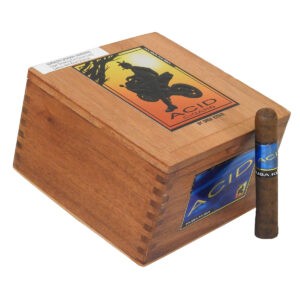 If you love the idea of savoring a cigar but aren't sure how you feel about some of the tastes and aromas commonly associated with tobacco, then the ACID Kuba Kuba from Drew Estate is the cigar for you. 
The Kuba Kuba is an infused cigar, which means the tobacco leaves were hung to dry in a special curing room alongside herbs and botanicals, which gives this unique stick a very floral character. 
A far-cry from the harsh burn some associate with a cigar, the Kuba Kuba is packed with sweet flavors and aromas. Right out of the cellophane, this stick fills the air with inviting botanical and earthy citrus notes. This friendly profile remains when the cigar is lit, with unmistakable hits of honey up front, carried by a well-balanced bouquet of floral flavors. Discerning smokers may also detect notes of cedar, lavender, and dried fruit as the smoke goes on. Highly recommended for hookah smokers or vape users who are curious about cigars but aren't sure where to start. 
Click here to buy the ACID Kuba Kuba online. 
2) Macanudo Inspirado White Toro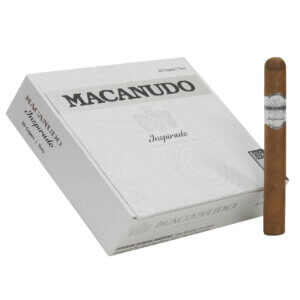 If a more traditional cigar is what you're after, the Macanudo Inspirado White Toro is an excellent place to start. This cigar offers beginners and seasoned smokers alike the best of all worlds, with components from four different countries. The wrapper is from Ecuador, the binder is Indonesian, the filler tobacco is a Mexican-Nicaraguan blend, and the resulting flavors are a smooth mixture of everything one might expect from a fine cigar. 
Right upfront, the Inspirado White Toro delivers a mix of cream, cedar and black pepper accompanied by satisfying woody aromas. As the Inspirado burns, the sweeter notes give way to some mellow citrus flavors that help this approachable cigar resolve toward a relaxing finish.
We recommend the Macanudo Inspirado White Toro for beginner smokers who want an approachable option that stays true to the classic cigar experience. 
Click here to shop the Macanudo Inspirado White Toro online. 
3) Perdomo 10 Year Champagne Epicure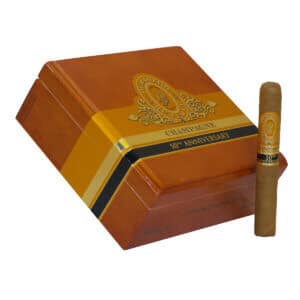 Special occasions are how many cigar smokers get their start, and if you're looking for the perfect stick for your next big gathering, the Perdomo 10 Year Champagne Epicure is an excellent choice that's sure to please new and experienced smokers alike.

As the name would imply, this stick fits the celebratory spirit just like a good dessert, with sweet flavors of butterscotch, nuts, and light spice. Unlike some sweeter cigars, the Perdomo 10 Year Champagne Epicure remains pleasant and sociable throughout — no left turns into harsher territory as the burn goes on. 
We recommend this Perdomo 10 Year Champagne Epicure for anyone looking for a crowd-pleasing cigar to bring to a gathering or special occasion. Click here to shop the Perdomo 10 Year Champagne Epicure Online
4) Romeo y Julieta Reserva Real Robusto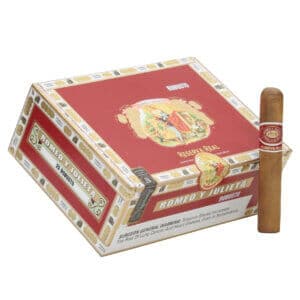 One of the most appealing aspects of smoking cigars is the relaxation factor. The ability to kick back, block out the noise, and enjoy the flavor is hard to beat, and sometimes, you just want a mellow stick that smokes easy and won't throw you any curveballs. 
The Romeo y Julieta Reserva Real Robusto is the perfect choice for newer smokers who want a relaxing, easy-going cigar that won't wreck the palate or break the bank. This smooth, medium-bodied cigar boasts creamy flavors with subtle notes of cedar and pine, with some sweet spices edging in as the burn goes on. 
One of the things we love about the Romeo y Julieta Reserva Real is how easily it fits into just about any occasion. It's as good a partner to your morning coffee as it is to your golf game, and the Robusto shape means it will never overstay its welcome. We recommend this cigar for the beginning smoker who wants to keep things simple without sacrificing flavor.
Click here to shop the Romeo y Julieta Reserva Real online. 
5) Montecristo Classic No. 2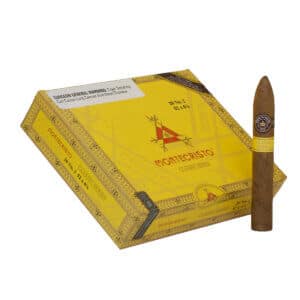 Feeling ready to experience something a bit higher end? The Montecristo Classic No. 2 delivers a luxurious blend of distinct flavors in a mild-strength cigar that nearly any smoker is sure to enjoy.
Unlike some of the other cigars on this list, the Montecristo Classic No. 2 offers a nuanced experience that evolves and changes in distinct ways as it burns. It starts out inviting and approachable with pleasant notes of cinnamon and almonds that gradually evolve to incorporate espresso and cedar after your first few draws. Each third of this cigar tells a slightly different story; while the pleasant flavor profile is fairly consistent, the strength builds gradually from mild to medium to full by the final third, as some stronger notes of pepper enter the mix. 
This may not be the perfect choice for your first-ever cigar, but if you're a new smoker looking to ease your way into heavier, more complex sticks, make the Montecristo Classic No. 2 the next addition to your home humidor.