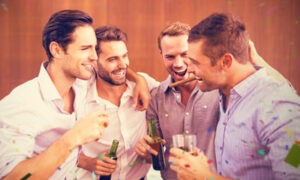 As soon as an event is over, the next is already waiting for us. All those celebrations, from birthdays to Christmas and New Year's Eve need to be celebrated the right way. It doesn't matter if you are spending the evening in the privacy by the fireplace, at a dinner for one or if you are invited to a big party with many people. No matter where you are, cigars are always the perfect companion.
When celebrating something, you should treat yourself with one of the best 10 cigars we have selected for you and let the party have a great ending. We will help you to choose your best cigars for celebrations. The following ideas are special cigars that are ideal for larger and quieter celebrations. You just have to pick one that fits you.
1. Asylum 13 Corojo Super 11/18
With this cigar, you automatically become the center of the party. The giant blend is absolutely great and tastes really good. You can find it in our shop.
2. Arturo Fuente Rosado Sungrown
This cigar has an exquisite and very special character. The Sungrown cover sheet of Fuente, which comes from the lower crop sections of the Ecuadorian tobacco plant and matured for almost 10 years, creates a distinctive about 50-minute smoking experience. These rare leaves develop a complex, creamy and well-balanced taste with a slightly sweet finish.
3. Davidoff Nicaragua
Exclusivity is a top priority in most celebrations. Davidoff Nicaragua is strong and aromatic. Experience the harmonious interplay of the flavors of this cigar and your fruity drink.
4. Montecristo no. 2
With a smoking time of 70 minutes and an earthy, sweet-spicy aroma, the Montecristo no. 2 is an excellent, but also classic Cuban cigar choice. The tobacco is handmade and on top of that it is an eye-catcher with its striking dark cover sheet, as well as with a length of 15.6cm and a diameter of 20.6mm.
5. Leon Jimenes
With a coffee note and great flavors, you can spend nearly two hours with the Leon Jimenes. You can enjoy the cigar with a sweet drink. It is made of fine tobacco and you can find it in our shop now.
6. Alec Bradley Post Embargo Toro
The Alec Bradley Post Embargo Toro lets you look stylish and as a newcomer to cigars, it's not just an optical experience. Aficionados perceive pleasant taste of pepper, coffee and chocolate during the first few drags. Subliminal notes of cedar, roasted nuts and a hint of leather are also there. The aromas change during the smokes from a light sweetness to notes of tea, earth and forest.
7. Romeo y Julieta Churchill
The Romeo y Julieta Churchill has a smoke duration of 90 minutes. Especially the first two-thirds of the Romeo y Julieta convince with a full-bodied smoke and the quite creamy taste experience. But because of the powerful tobacco, the Cuban cigar Romeo y Julieta is more suitable for experienced smokers.
8. Rocky Patel
Rocky Patel brings out new, premium cigars year after year. It is a choice at every opportunity and is appreciated by both beginners and experienced smokers.
9. Macanudo Vintage
Macanudo Vintage are not only very stylish, the tobacco used is also great. The wide range of flavors give you the opportunity to pick something to fit the occasion.
10. VegaFina Corna
The VegaFina Corona from the Dominican Republic is a Corona cigar with a length of 14.6 cm, which offers about a one-hour smoking pleasure. It is mild in taste and rich in aromas, which some aficionados describe as rum, grass, cream or sweetness.