Everything to Know About K by Karen Berger Cigars 
K by Karen Berger may be one of the only woman-owned and -run cigar lines in the industry, but that's far from the only reason tobacco lovers the world over should be paying attention. From her remarkable story to her signature line of high-quality, budget-friendly cigars, Karen Berger is a name to watch in the tobacco industry, and Stogies World Class Cigars is proud to carry a full selection of K by Karen Berger cigars online and in-store.

Let's take a deeper look at Karen Berger's journey in cigar-making, and at the award-winning K by Karen cigars lovers of the leaf can't seem to get enough of.

A Story of Passion and Perseverance
For cigar fans, authenticity is everything, and Karen Berger's story is about as authentic as they come. At 18 years old, Karen was living in Nicaragua and studying business administration when she made the fateful decision to take a job in a local cigar factory rolling cigars and learning the finer points of cigar-making first hand — a trial by fire experience that would come to serve her well.
During this time, Karen met the factory's owner, the legendary Don Kiki Berger, and the two fell in love before eventually getting married. As her husband, Don Kiki encouraged Karen's passion for tobacco and encouraged her to get deeper into the business. Karen and Don Kiki lived and worked together until Don Kiki's death in 2014, at which point Karen was next in line to take the torch. 
Inspired by the lifelong passion her husband had brought to his craft, Karen was determined to carry on his legacy at Don Kiki Cigars  — she didn't want to just roll with the punches and keep the lights on, she wanted to keep the flame ignited with new blends and new products.
So just as she had mastered the complexities of rolling a perfect cigar, Karen took on the challenge of developing new blends, taking care to incorporate elements smokers craved and to respect the brand name her husband had built. After expanding the original Don Kiki lineup with two new blends, Berger decided in 2016 to introduce a new line under her own name: K by Karen Berger.  
Get to Know K by Karen Berger Cigars
K by Karen Berger is far from a vanity project. Berger is a cigar maker's cigar maker, overseeing every aspect of the product that bears her name from blend selection all the way to tobacco growing, funding her own tobacco crops in Nicaragua. The cigars themselves are handmade at the famous Tabacalera Estelí cigar factory in Estelí, Nicaragua.

Stogies World Class Cigars offers K by Karen Cigars with Maduro, Cameroon, Connecticut, and Habano wrappers. Let's break it down. 
K by Karen Berger Maduro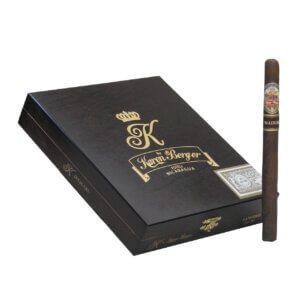 Binder: Nicaraguan
Filler: Nicaraguan
Wrapper: Maduro
This hand-rolled, medium-bodied Nicaraguan puro cigar is one of the premier sticks in the K by Karen portfolio. The pairing of rich-aged Nicaraguan binder and fillers alongside the dark, oily Maduro wrapper make for a sweet and spicy smoke you'll want to savor and revisit.
This rich, multifaceted cigar pairs well with a fortified wine or a dark, creamy stout. 
Buy the K by Karen Berger Maduro Online:
K by Karen Berger Cameroon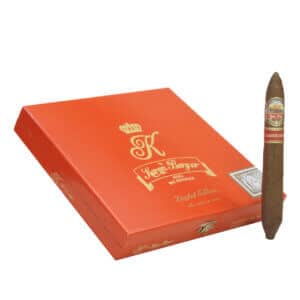 Binder: Nicaraguan
Filler: Nicaraguan
Wrapper: Cameroon
The K by Karen Cameroon is an excellent choice for those who enjoy a more complex cigar. Where many cigars with a Cameroon wrapper mix sweetness with some intense spice, this stick has an interesting dryness that lets the sweeter characteristics shine through. Where the spice notes fall back, coffee- and fruit-like sweetness shine through, evolving and changing in character as the cigar burns for an experience that's as unique as it is satisfying. 
We recommend pairing this decidedly sweet Cameroon with a glass of brandy for a perfectly indulgent experience. 
Buy the K by Karen Berger Cameroon Online:
K by Karen Berger Connecticut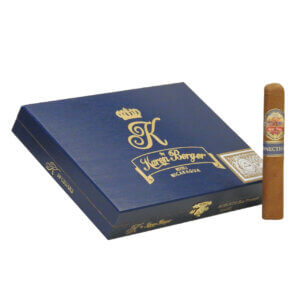 Binder: Nicaraguan
Filler: Nicaraguan
Wrapper: Connecticut 
The K by Karen Berger Connecticut is a cigar for those who prefer to use all available senses when savoring a cigar — sight and touch included. This immaculately crafted cigar is smooth to the touch with almost no veins to be seen; the quality construction is well-worth taking in before you light it. 
However, the pleasures of this stick don't stop there. Buttery sweetness and fruit flavors greet you upon lighting, and as the ash begins to fall, tangier notes take over along with the satisfyingly bitter notes you expect from a quality Connecticut-style wrapper. 
We recommend pairing the K by Karen Berger Connecticut with your favorite Canadian whiskey. 
Buy the K by Karen Berger Connecticut Online:
K by Karen Berger Habano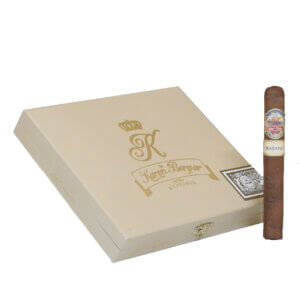 Binder: Nicaraguan
Filler: Nicaraguan
Wrapper: Habano
The Habano in the K by Karen portfolio is a treat for those who enjoy more intense, earthy flavors. This medium-bodied cigar enlivens the palate with strong tobacco flavors, including heavy pepper and spice characteristics that only evolve as the burn progresses. 
We recommend pairing this spice-forward stick with irish whiskey, served neat. 
Buy the K by Karen Berger Habano Online: