At Stogies World Class Cigars, we have standards when it comes to the cigars we sell. We don't just stock any cigar that comes on the market, and we prefer to work with brands and manufacturers who mirror our commitment to quality — brands like Crux Cigars.
Each cigar in Crux's growing portfolio is backed by some of the most stringent quality standards and control methods in the industry. And although Crux is a fairly new cigar brand, having only been on the market since 2014, they have quickly made a name for themselves as one of the hottest brands in tobacco today. Let's take a look at how they got there, and at the excellent Crux cigars that Stogies has in stock online.
Crux Cigars: A story of craft, community, and crossroads
In the cigar world, great stories don't usually start with silver spoons and easy roads, and the story of Crux is no exception. Brand founder Jeff Haugen got his start in the tobacco industry in 1992 as the owner of the Tobacco Grove cigar shop in Minneapolis. Despite a lifelong love of cigars, he had a lot to learn about running a cigar business. But with the help and guidance of trusted friends and partners, he was able to persevere. To this day, Haugen considers the independent cigar shop community critical to his brand.
That sense of community and shared vision set the stage for the founding of Crux. The Latin word for "cross", the name Crux is a reference to the crossroads we all face in life's journeys, the ones that keep us "always searching, until you find the crux."
Haugen found himself at yet another crossroads when in 2012, he decided to take the first steps toward his long-standing dream of developing a cigar brand of his own. That year, he took his first of many trips to Nicaragua, where he worked to learn all he could about the life of a great cigar, from seed to stick. In 2014, he was ready to bring his vision to life. 
Haugen teamed with the renowned Plasencia family to produce Crux Cigars at the La Catedral factory in Nicaragua using only the finest premium tobacco, sourced from a variety of farms. Today, Crux cigars are sold in five different series: Epicure, Epicure Maduro, Limitada, Guild, and Bull & Bear, all of which are available online at Stogies World Class Cigars.
Let's break it down. 
Get to Know the Crux Cigars Lineup 
Crux Epicure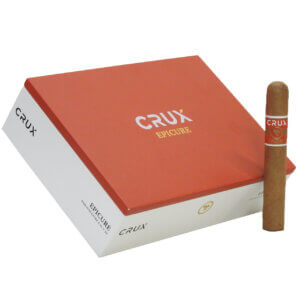 Binder: Nicaraguan
Filler: Nicaraguan
Wrapper: Connecticut
Dubbed the "crown jewel" of the Crux cigar brand, the Epicure is a likable cigar with appealing qualities well-suited to just about any cigar lover. From the foot all the way down to the band, the Crux Epicure is smooth, creamy, and full of inviting flavors. This medium-plus cigar starts with sweet vanilla notes complimented by bright citrus. Though the Epicure does pick up some more intense flavors, with some black pepper notes and leather flavors on the retrohale, it retains its sweeter traits through the finish. 
The Epicure's clean, mild profile makes it a good pair with your favorite lager.
Buy the Crux Epicure online: 
Crux Epicure Maduro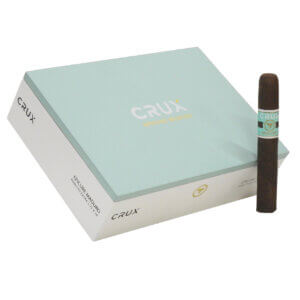 Binder: Nicaraguan
Filler: Nicaraguan
Wrapper: Maduro
Don't let the shared name fool you – the Crux Epicure Maduro is its own unique experience. From the eye-catching packaging modeled after the colors of a 1957 Chevrolet Bel-Air to the stick itself, this is a gorgeous cigar marked by a strong visual consistency, immaculate construction, and a solid Maduro wrapper.

Consistent with its name, the Epicure Maduro trades some of its predecessor's lightness for a richer sweetness, giving off aromas of cherries, dark chocolate, and earthy tobacco, all of which remain present through the first third. The intensity ratchets up a few notches as the cherry notes give way to notes of dark wood and spice as the cigar comes to a close.

We recommend pairing the Crux Epicure Maduro with a mild bourbon. 
Buy the Crux Epicure Maduro Online: 
Crux Limitada
Binder: Connecticut Broadleaf
Filler: Dominican
Wrapper: Nicaraguan
The Crux Limitada is a rare, ultra-premium offering from Crux that comes out once a year and is worth seeking out if you're serious about cigars. The Crux Limitada features the rare Engañoso leaf grown in Esteli wrapped in Connecticut Broadleaf for a rich taste packed with cocoa, dark raisins, white pepper, cedar, and complex earthy flavors. This stick features an uncommonly consistent flavor profile marked by subtle evolutions as the burn progresses. 
We recommend pairing the Crux Limitada with your favorite Kentucky Bourbon Whiskey.
Buy the Crux Limitada Online: 
Crux Guild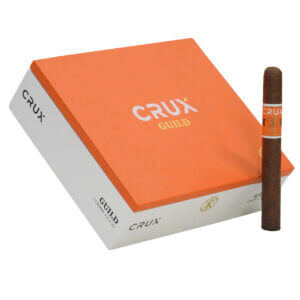 Binder: Nicaraguan
Filler: Nicaraguan
Wrapper: Habano
The Crux Guild is a strong, full-bodied cigar geared toward more experienced smokers. The premium Habano wrapper is a treat, with strong cocoa and hickory aromas rounded out nicely by notes of orange peel and pecans. Upon lighting, the complexity of this cigar immediately jumps to the forefront with rich, earthy tones of leather and spicy pepper. This multifaceted stick develops a pleasant underlying sweetness in its second third, only for the spice to come back with a vengeance to finish. 
The Guild's rich, spicy flavors pair well with a complex coffee. To mellow the experience, consider a light but sweet beer like Shiner Bock. 
Buy the Crux Guild Online: 
Crux Bull & Bear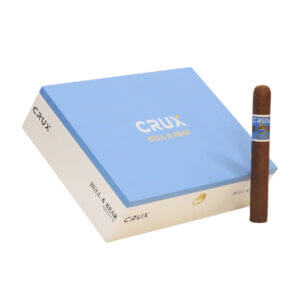 Binder: Nicaraguan
Filler: Nicaraguan
Wrapper: Habano
To anyone who thinks full-bodied cigars can't also be smooth and well-balanced, we'd like to draw your attention to the Crux Bull & Bear. The Bull & Bear emphasizes quality from top to bottom, featuring premium tobacco hand rolled in a vintage Nicaraguan Habano wrapper. Characterized by rich, unique flavors including vanilla, honey, walnut, and even mint, the Bull & Bear is crafted with defiant spirits in mind. 
We recommend pairing the Crux Bull & Bear with your favorite stout. 
Buy the Crux Bull & Bear Online:
Crux du Connoisseur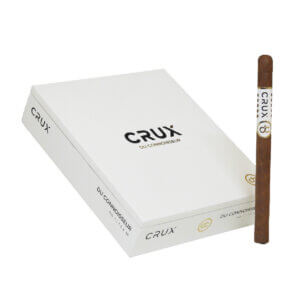 Binder: Nicaraguan
Filler: Nicaraguan
Wrapper: Nicaraguan Habano
If you've made it this far, chances are you're looking for something a bit off the beaten path — that's why we've saved the Crux Du Connoisseur for last. The Du Connoisseur is made with serious smokers in mind, and is advertised as the perfect companion for a contemplative, late-night smoke. 
This immaculate blend of premium tobaccos delivers a bold, intense flavor rounded out by some disarming smoothness that keeps the Du Connoisseur approachable and your palate clear to savor this fine stick.
We recommend pairing the Crux Du Connoisseur with a robust coffee. 
Buy the Crux Du Connoisseur online: 
Shop Crux and Other Premium Cigar Brands at Stogies World Class Cigars
At Stogies, we're proud to partner with some of the top cigar brands to make premium cigars accessible and affordable online and at our retail cigar store in Houston, TX. Explore our full selection and join us for a smoke at our Houston indoor cigar lounge.