The Best Montecristo Cigar Pairings
Montecristo cigars are some of the world's most recognizable and beloved, and for good reason. Thanks to its Cuban heritage and reputation for premium, high-quality sticks, Montecristo has become a go-to label for lovers of the leaf the world over. 
At Stogies World Class Cigars, we believe that every fine cigar deserves to be experienced to its fullest, and there's no better way to make a good cigar even better than the right beverage pairing. Whether you're looking to unwind with your favorite beer, wine, or liquor after a long day on the job, or you just trying to start your day right with a fine stick paired with the right coffee, our experts have picked out the most delicious pairings to help you bring out the best in your favorite Montecristo cigars. 
Montecristo Classic Pairing Suggestions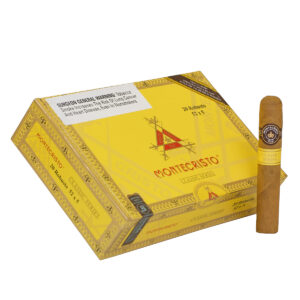 As its name would imply, the Montecristo Classic is a high-quality, straightforward smoke that both regular and occasional smokers are likely to enjoy. This mild cigar has an agreeable flavor profile with notes of creamy vanilla, butter toffee, and rich tobacco that make for a smooth, palatable experience that pairs well with equally easy-going beverages.
Beer pairing: This smooth cigar is well-suited to a smooth, light Lager. The crisp, subtle flavors of the beer give the Montecristo Classic's sweet flavors to shine. 
Wine pairing: A sweet merlot is the perfect wine pairing for the Montecristo Classic. The wine's sweet, earthy undertones pair excellently with the nutty sweetness of the stick. 
Liquor pairing: Looking for something complex to offset the simplicity of the cigar? Pair with a single malt scotch for a simple but elegant pairing that allows both your drink and the stick to shine. 
Coffee pairing: A classic americano offers the right mix of bitter and sweet flavors for the mellow Montecristo Classic. 
Click here to shop the Montecristo Classic online. 
Montecristo Platinum Pairing Suggestions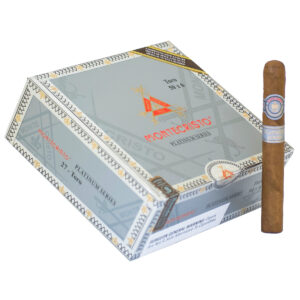 Feeling fancy? The Montecristo Platinum series features a luxurious, medium-full flavor profile with big notes of dried fruit, roasted chestnuts, and caramel all rounded out by some subtle spice that evolves in depth as you approach the final third. Though very full-flavored, the smoking experience is more decadent than aggressive, making it an ideal match for sweeter, richer drinks. 
Beer pairing: We recommend going a bit off the beaten path and seeking out a dark wheat beer or a Dunkelweizen to pair with a cigar from the Montecristo Platinum series. The fruitcake-style flavor profile of the beer blends perfectly with the Montecristo Platinum's dried fruit flavors and licorice aroma, making for a distinctive, rewarding pairing.
Wine pairing: The deep fruit flavors of the Montecristo Platinum demand an equally rich wine. The smokey, black fruit flavors of a Syrah make it the perfect pair for this premium cigar, proving that in some cases you really can't have too much of a good thing.
Liquor pairing: If you're looking to pair the Montecristo Platinum with something a bit stronger, we recommend breaking out the cocktail shaker and mixing up a classic Manhattan. The rye whiskey plays nicely with the cigar's spicy undertones, while the sweet vermouth brings out the best of the Montecristo Platinum's sweet side. 
Coffee pairing: For a morning smoke, we recommend pairing the Montecristo Platinum with a creamy macchiato. 
Click here to buy the Montecristo Platinum online.
Montecristo White Pairing Suggestions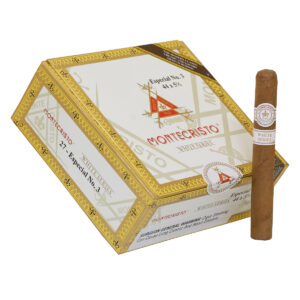 When it comes to cigars, sweet doesn't always have to mean light. The Montecristo White series delivers sweet earthy flavors alongside notes of toasted hazelnut, creamed coffee, and vanilla. Fittingly, this medium-bodied cigar pairs well with beverages that deliver on flavor without sacrificing smoothness.
Beer pairing: The sweet, floral aromas of the Montecristo White pair perfectly with the crisp hops of a light pale ale like Sierra Nevada or Weekend Warrior by Karbach. 
Wine: A crisp, dry Chardonnay provides the Montecristo White's sweeter flavors ample space to bloom on the palate in this oddly refreshing combo.
Liquor: When pairing the Montecristo White with spirits, we recommend leaning into the sweetness with a nice VSOP cognac. 
Coffee: The cigar's sweet character makes it a perfect foil for a strong espresso. 
Montecristo Nicaragua Pairing Suggestions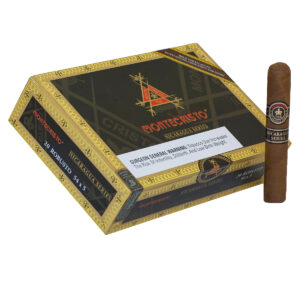 The Montecristo Nicaragua is a medium-to-full bodied cigar for the smoker who likes to have it all. This stick is strong, but with a rewarding, welcoming flavors of cocoa, roasted nuts, and vanilla that nearly any lover of the leaf will appreciate. Given the Nicaragua's strong character, we recommend pairing with beverages that allow it's friendlier side to shine. 
Beer: Stouts and the Montecristo Nicaragua are a match made in cigar heaven. Whether you want to play up the spice and roasted nuts with a dry stout like Guiness, or you want to lean into the sweetness with a milk stout, this stick pairs wonderfully with beers across this classic style.
Wine: The dark fruit flavors and chocolate undertones of a Washington Cabernet pair excellently with the deep flavors and sweet chocolate aroma of the Montecristo Nicaragua. 
Liquor: For those who wish to play up the Nicaragua's bolder side, aged scotch whiskey will perfectly accentuate the Montecristo Nicaragua's earthy, leathery notes.
Coffee: For a delicious early morning or dessert indulgence, we recommend pairing the Montecristo Nicaragua with a double shot of espresso with some added whipped cream to cater to both the sweet and strong side of this one-of-a-kind stick.
Click here to shop the Montecristo Nicaragua online. 
Montecristo Epic Craft Cured Pairing Suggestions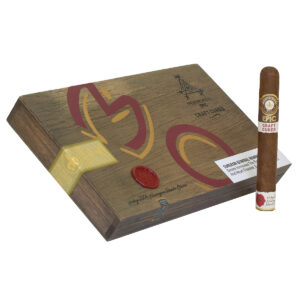 We saved the most interesting pairings for last. The Montecristo Epic Craft Cured lives up to its name with sophisticated, hard-hitting flavors including cocoa, coffee, and warm spices, beautifully complemented by chocolate and cinnamon aromas. Its subtle, evolving sweetness makes the Montecristo Epic a perfect choice for those indulgent evenings when you aren't in the mood to compromise.
Beer: The subtle sweetness of a classic Brown Ale will pair perfectly with the Montecristo Epic's nuanced flavor evolution, with the beer highlighting and accentuating different flavor components with each third of this exquisite smoke.
Wine: The Montecristo Epic goes big on flavor, and you'll want a wine that can keep up. We recommend pairing this stick with an Australian Syrah for a bold flavor experience.
Liquor: The Montecristo Epic is a celebratory cigar at heart, and what better spirit for a memorable night than tequila? The sweet agave flavors you get from good tequila bring out the best in the Epic's spicier notes for a unique pairing that's sure to unlock some new spaces on the palate. 
Click here to buy the Montecristo Epic Craft Cured online. 
Looking for your next Montecristo cigar? Stogies has you covered.
Montecristo's are among the world's most beloved cigars for a reason, and you can always find a wide selection of these world-class cigars perfectly stored and ready to smoke in our retail location and our online store. 
The cigars linked in this blog are just the tip of the iceberg — explore our full selection online or drop by our store to get expert in-person guidance from our tobacconist.