A Beginners Guide to Cigars: What Every New Smoker Should Know
If you're looking for a beginners guide to cigars, we understand: cigars can be intimidating. Between all the lingo, the variety of shapes, sizes, and growing regions, the techniques, and the accessories, it can be easy for new smokers to get stuck smoking poorly cut gas station cigars and miss out on the full cigar experience. 
That's why we created this guide for beginner cigar smokers.
At Stogies World Class Cigars, we specialize in connecting smokers of all tastes and experience levels with the perfect cigars and accessories for them and their needs, and making sure every customer understands the details every smoker should know when choosing a fine cigar. Before you buy your next cigar, explore our beginners guide to cigars so that you can select the perfect cigar for you!
Start your cigar journey the right way: Click here to explore our top cigars for beginning smokers. 
Cigar Lingo 101
You could practically write a new dictionary just from slang smokers use to describe their favorite sticks (Cigars!), but some pieces of cigar lingo are too important to leave to the experts. When looking through a humidor or shopping for cigars online, these are the cigar phrases you'll need to know as you make your selection. 
Aroma

: The scent of a cigar when it's lit, not the same as the taste/flavor. Also called a "bouquet".

Blend

: The mix of tobaccos (up to 5) that go into a cigar. Blends can include tobaccos from multiple growing regions.
Body

: Body can refer to both the actual body of the cigar itself and to the density of smoke the cigar produces. 
Cold Draw

: The taste of a cigar after its been cut and before its lit. Cold draws give smokers a chance to take in a cigar's flavors before smoking.
Cutter

: The tool used to clip off the cap of the cigar cleanly prior to smoking. A good cut ensures a smoother draw. 
Draw

: The process of pulling air through a cigar. 

Humidor

: A box specially designed for storing cigars at the proper humidity. Humidor is also used to refer to a climate controlled room where cigars are kept at a store. 
Leaf

: Commonly used as a catchall term for fine tobacco. Brother of the Leaf (BOTL) has even become a common phrase used to refer to fellow cigar smokers online.
Ring Gauge

: The diameter of a cigar. Different cigar shapes (more on that later) have different ring gauges.

Stick:

A slang term for a cigar.
Strength

: A reflection of a cigar's nicotine content and overall intensity. Cigars can be either mild, medium, or bold.
Torch

: A type of specialty lighter often favored by cigar smokers for its efficiency and more even burn. 
Vitola

: The term used to describe different cigar shapes (more on that later).
The list goes on and on, but these terms will help you get your cigar journey off to a strong start. Now, on to the technical stuff.
Parts of a Cigar Explained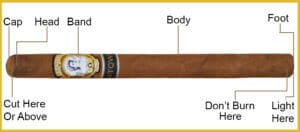 You don't have to know everything about a cigar's construction to enjoy them, but researching and discussing cigars with fellow enthusiasts is part of the fun, and understanding the different parts of a cigar is an essential part of the overall experience. Let's break it down from top to bottom.
Foot

: The foot of a cigar is the part of the cigar you light.  The foot of a new cigar is already open, and you do not need to cut the foot of a cigar to smoke it. 

Band

: Cigar bands are rings made of paper or foil that feature the cigar manufacturer's name, logo, and other identifying features. While some see the band as the end of a cigar's burn, others like to smoke past the band.

Do not let the band burn

. Remove the band once the lit end of the cigar is an inch above the band. 

Cap

: The cap is the part at the end/bottom of a cigar that you put in your mouth. You cut the cap prior to lighting the foot and smoking. 
Then, there's the leaf itself. Let's take a look at a cigar from the outside in.
Wrapper

: Not to be confused with the cellophane packaging, the wrapper is the outer leaf that surrounds the interior tobaccos. Wrappers aren't just functional, and play a crucial role in the appearance, taste, and aroma of the cigar. The two most common categories of cigar wrappers are Natural (mild, nutty, lighter in color) and Maduro (smooth, sweet, darker in color). 
Binder

: Binder tobaccos are just underneath the wrapper. The binder tobacco is what  maintains a cigar's structure and helps the cigar burn clean and smooth.

Filler

: Filler tobacco is encased in the cigar's center by the binder. Filler tobaccos are selected to play off the flavors imparted by the wrapper, and play a very important role determining a cigar's overall strength and taste. How densely the filler tobacco is packed affects the cigar's overall strength and how it pulls/draws. 
As you try different cigars, you'll learn more and more about which combinations of wrappers, binders, and fillers deliver the flavor and experience you're looking for. Until then, knowing the pieces and the role they play will help you keep track of the cigars you smoke so that you can start making educated decisions when choosing your next stick. 
The Different Types of Cigars
Fact: There is no "regular" type of cigar. Cigars come in different vitolas, or shapes and sizes. While the combination of wrapper leaf, binder tobacco, and filler tobacco are what ultimately determine the strength and flavor of a cigar, the vitola plays an important role in the overall experience. In fact, some smokers stick to certain vitolas exclusively!

While there are many different vitolas with subtle variations, for these purposes we'll stick to some of the more popular shapes and sizes that we sell here at Stogies. 
Petit Corona

: Petit Coronas are some of the smallest cigars available. Typically measuring in at 4.5 to 5 inches long, Petit Corona cigars offer highly concentrated flavors in a smaller package that can be ideal for some beginner smokers, or for smokers looking for big flavors in a short amount of time. 
Robusto

: Robusto is one of the most popular vitolas available. Compact but not short on flavor, Robustos typically run about 4.75 to 5.75 inches long and produce a generous amount of smoke in a fairly short amount of time, with most Robustos burning for just 30-45 minutes. As their name implies, Robustos are known to pack a bit of a punch. 
Corona

: Often considered the most universal vitola, Coronas are typically 5.25 to 6 inches long and offer a very balanced smoking experience. In fact, many cigar makers work out a new blend by testing them in the Corona vitola before moving on to other shapes and sizes. 
Toro

: A testament to the fact that longer cigars aren't always more intense, Toros are typically 6 to 6.5 inches long, these thinner, longer sticks allow for more mellow draws and a slower burn.  
Gordo

: Typically 6 to 7 inches in length, Gordos offer the smooth, slow smoke of a Toro with slightly more intensity thanks to the thicker ring gauge. 
Churchill

: Named after former Prime Minister Winston Churchill, Churchills can be thought of as a longer Corona, typically measuring in around 7 inches. Churchills are known for their longer smoke times and intense finishes that make them great for an extended, relaxing smoke session.
Lancero

: A Stogies favorite, Lanceros are around 7 to 7.5 inches long and are a great option for smokers who want a more intense flavor from the wrapper leaf and are looking for a longer burn. Sound interesting? Check out our exclusive line of

H-Town Lanceros, available only at Stogies

. 
Stogies Has Everything You Need to Start Your Cigar Journey 
From a full selection of premium cigars from the world's top manufacturers to an incredible selection of fine cigar accessories and more, Stogies has what any smoker needs to get the most from their cigars. 
Stay on top of our newest products and latest deals by joining our mailing list, and stay tuned to our social media to learn about our latest events and rare cigars.